As a true Southerner, I can't let New Year's Day go by without having a helping of black eyed peas for good luck. This year, I made Black Eye Pea Chili using my new Lodge Dutch oven from Market Street.
This version of Black Eyed Pea Chili is vegetarian, but you could easily add some ground beef or ground turkey to make it even more filling. My son gobbled it up, and I was impressed with just how tasty it was.
Black Eyed Pea Chili
Ingredients:
1 large yellow onion, chopped
1 large red bell pepper, chopped
1 large green bell pepper, chopped
4 cloves garlic, minced
2 cans black eyed peas, drained and rinsed
2 cans whole kernel corn, drained and rinsed
2 15 oz cans diced tomatoes, with juice (fire-roasted is best)
4 c vegetable broth
2 Tbsp mild chili powder
1 Tbsp cocoa powder
1 1/2 tsp ground cumin
1 1/2 tsp smoked paprika
1/4 tsp red pepper
1/3 c uncooked quinoa, rinsed
Salt and pepper to taste
Lime wedges for garnish
Directions:
In the bottom of a cast iron Dutch oven, sauté the onions until translucent. Add the bell peppers and cook for two minutes, then add the garlic and cook for one minute more.
Pour in the vegetable broth and add spices. Stir well and add the black eyed peas, corn, and tomatoes.
Bring to a boil, then reduce heat and simmer for 30 minutes. Black eyed peas and corn should be tender. Add quinoa and cook for 20 minutes. Serve warm with a squirt of lime juice.
Enjoy!
Don't miss this yummy recipe for Black Eyed Pea Dip: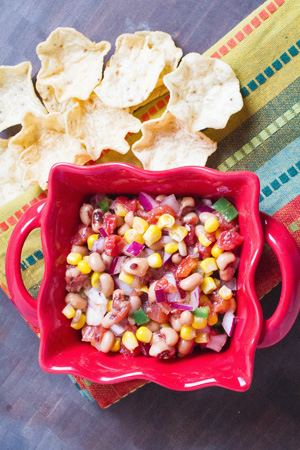 What's your family's New Year's traditions?