Happy New Year's Eve! Growing up, in true Southern fashion, my family always made sure to serve black-eyed peas on New Year's Day. They are supposed to bring luck in the New Year.
As you can imagine, eating plain ol' black-eyed peas can get kind of boring. So this year, I looked for a way to change things up. And I found this dip.
It's really yummy and would be the perfect way to serve this Southern tradition on New Year's Day.
Black-Eyed Pea Dip
Adapted From: Paula Deen
Ingredients:
2 (15-oz) cans black-eyed peas, drained
1 (15-oz) can whole kernel corn, drained
2 cans Rotel, drained
1 c chopped red bell pepper
2 – 3 Tbsp chopped fresh jalapeño pepper
1/4 c chopped red onion
1/2 c red wine vinegar
1 Tbsp balsamic vinegar
1 tsp salt
1/2 tsp freshly ground black pepper
1 Tbsp Dijon mustard
1/4 tsp sugar
Pinch dried oregano
1/2 c olive oil
1/2 c vegetable oil
Directions:
In a large bowl, stir together the black-eyed peas, corn, Rotel, bell pepper, jalapeño and onion.
In a jar fitted with a tight lid, mix together the vinegars, oils, salt, pepper, mustard, sugar and oregano. Drizzle the dressing into the bowl, adding just enough to coat the vegetables but not drench them.
Chill in the refrigerator until time to serve. Serve with tortilla chips.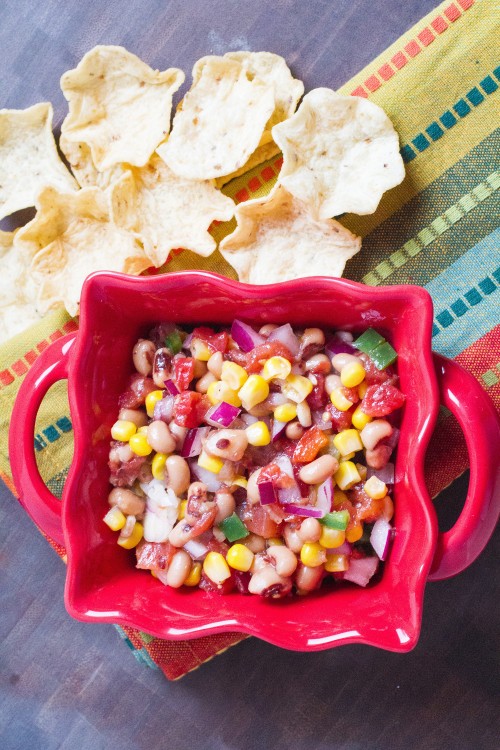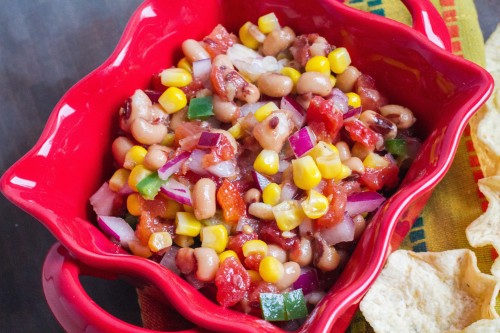 Enjoy, and Happy New Year!