How adorable are these Rainbow JELL-O Easter Eggs? They are easy to make, even if they are a bit messy! And you can even make them with plastic Easter eggs.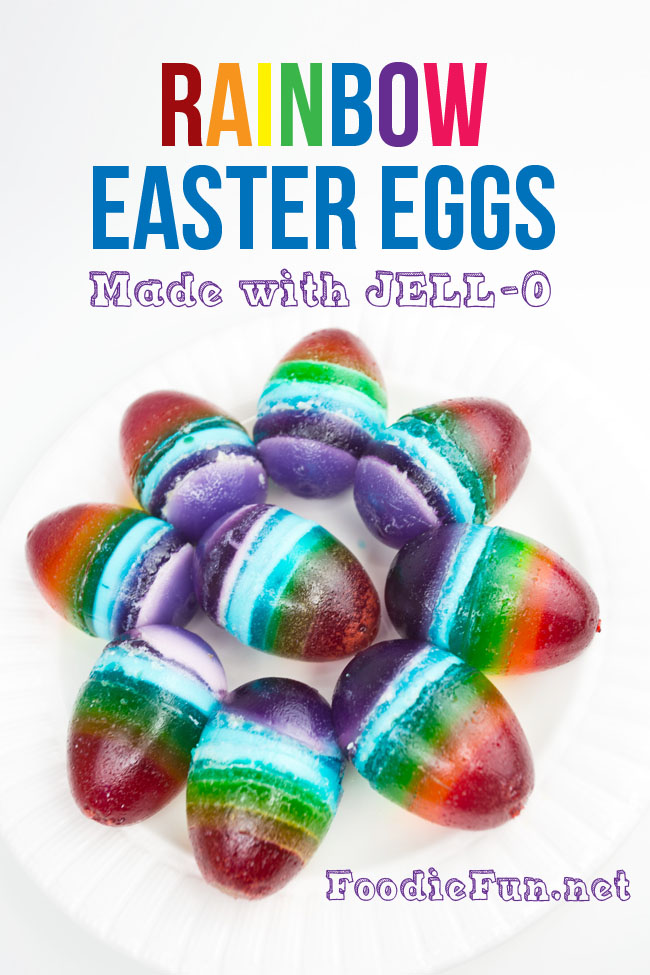 Rainbow JELL-O Easter Eggs
Here's what you need to make Rainbow JELL-O Easter Eggs:
Plastic Easter Eggs (you could also use a silicone mold)
Drill
Hot glue gun
Nonstick cooking spray
3 oz boxes of JELL-O in red, orange, yellow, green, blue, and purple
16 oz Cool Whip
6 cups water, divided
Syringe medicine dispenser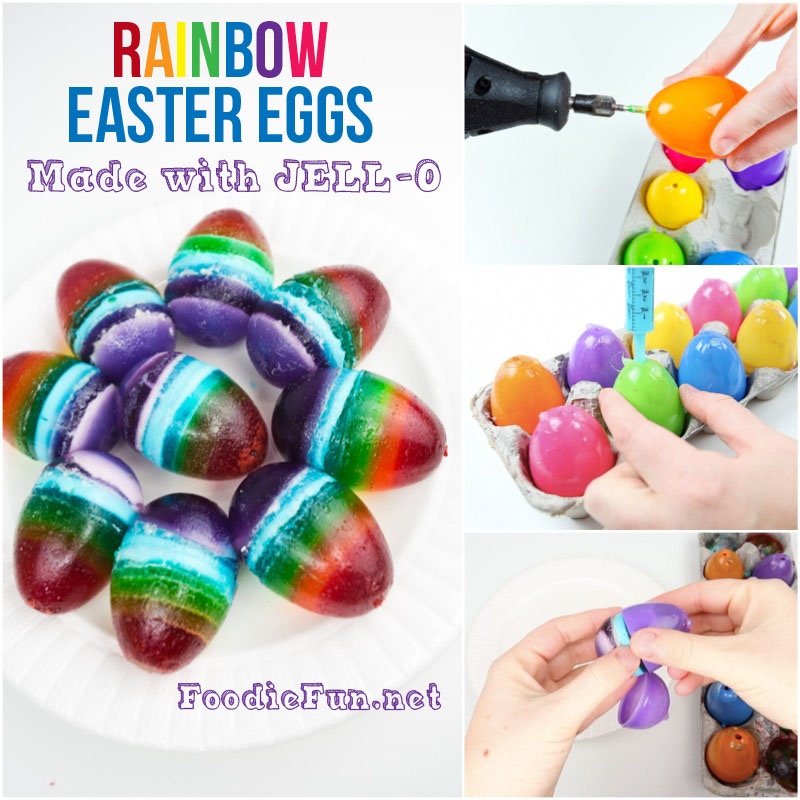 Use the drill to cut a hole in the top of your plastic Easter eggs. If your eggs have small holes in them, use the hot glue gun to cover those holes so liquid won't leak out.
Spray the inside of each plastic egg with nonstick cooking spray.
Heat 1 cup of water for 2 minutes in the microwave until boiling. Mix in 1 box of JELL-O — we started with purple and worked our way up. Once the JELL-O is dissolved, add 1/3 cup Cool Whip to a separate bowl and pour half of the JELL-O mixture onto it. Stir until creamy.
Use the medical syringe to squirt the Cool Whip JELL-O into the bottom of your Easter eggs. Cool in the refrigerator for 30-45 minutes until the JELL-O has set.
Now, add a layer of the purple JELL-O without the Cool Whip. Refrigerate for 30-45 minutes.
Repeat the steps with all of the different colors of JELL-O: Blue, Green, Yellow, Orange, and Red.
Once the JELL-O has set, carefully remove them from the plastic eggs. Serve cold and enjoy!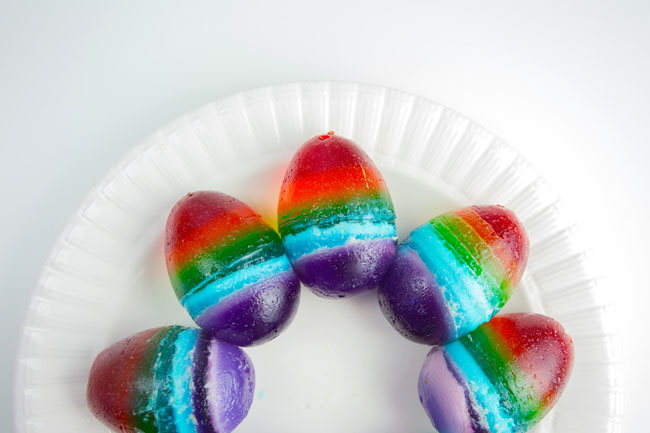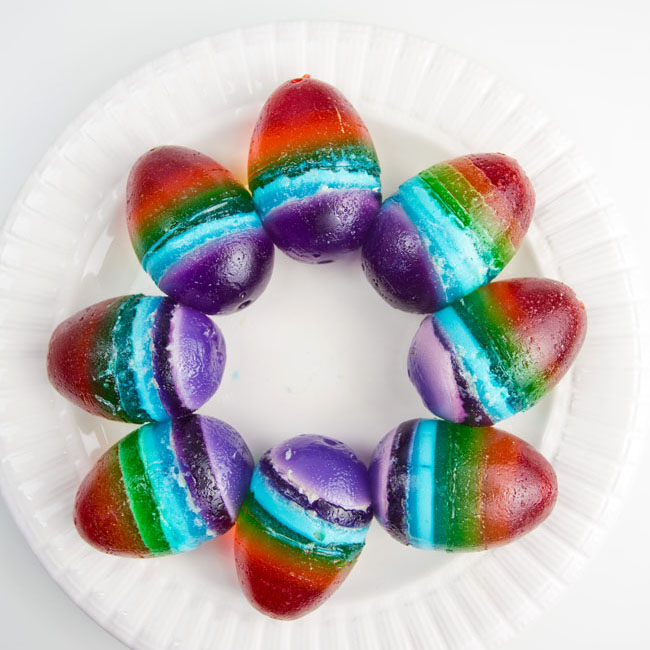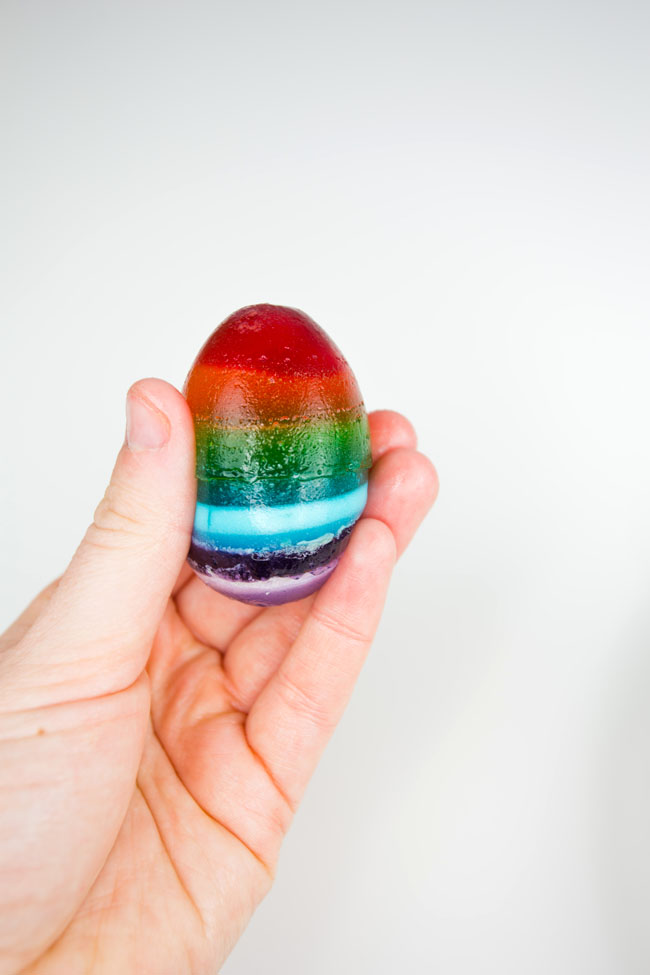 Yum!