My two-year-old son is obsessed with Disney's FROZEN. We took him to see the sing-along version of the movie when it was in theaters, and he belted "Let it Go" right along with Elsa on the screen. When it snowed this winter, he wanted to build Olaf. And now he thinks any creature with horns is a reindeer like Sven.
To get ready for the FROZEN DVD release, I wanted to put together a healthy snack that was inspired by the movie that my picky toddler would enjoy. These Homemade Frozen Yogurt Waffle bowls were perfect!
I headed to Walmart to purchase some Eggo Waffles to make the waffle bowls. While I was there, I picked up some Disney FROZEN toys, along with the soundtrack, so that we could listen to our favorite songs and play with our favorite characters while eating our snack.
Walmart had lots of toys to choose from. Since I was shopping for a two-year-old boy, I thought a fun sled with an Anna doll would be perfect for some #FROZENFun. I also got a castle for us to play with, along with some party supplies to set up all of our finds. I found the foam letters in the craft section to spell out the word "FROZEN." The sparkly blue color would be perfect for a Disney FROZEN DVD release party!
The FROZEN DVD will be available on Tuesday, March 18, at Walmart for a reduced-price of $14.96. You can also pick up specially-marked packages of 24-count Eggo Waffles for a $5-off coupon for the DVD. Then, come home and make these yummy Frozen Yogurt Waffle Bowls while you enjoy the movie!
Homemade Frozen Yogurt Waffle Bowls
Ingredients:
4 c Greek yogurt
1 c frozen fruit (I used a mix of blackberries, blueberries and strawberries)
2 Tbsp honey
Cheesecloth
1 pkg Eggo Homestyle Waffles, thawed
Directions:
Cover a bowl with the cheesecloth and set the yogurt on top to strain it. Place in the refrigerator overnight. I was surprised at how much liquid I was able to remove! Don't skip this step — it will keep your frozen yogurt from becoming too brittle.
Combine the yogurt, berries and honey in the bowl of a stand mixture, and mix on low until fully incorporated. Place the mixture in the freezer for 1-2 hours. You don't want to leave it in there for too long or it will get too hard.
The frozen yogurt is best if made and served the same day.
Now, it's time to make the waffle bowls! Preheat your oven to 400 degrees F.
Roll out the waffles one at a time with a rolling pin between two pieces of wax paper. You want to flatten it to about a 5 1/2 inch diameter.
Turn a muffin tin upside down on a baking sheet and drape the flattened waffles over the muffin cups. Bake for 8-10 minutes, until the waffles are a golden brown. Remove from oven and allow to cool.
Use snowflake-shaped cookie cutters to cut out pieces of toasted waffles and watermelon for garnish.
Scoop the frozen yogurt into the waffle bowls and serve with fresh fruit toppings.
Enjoy!
Are you excited for FROZEN to come out on DVD?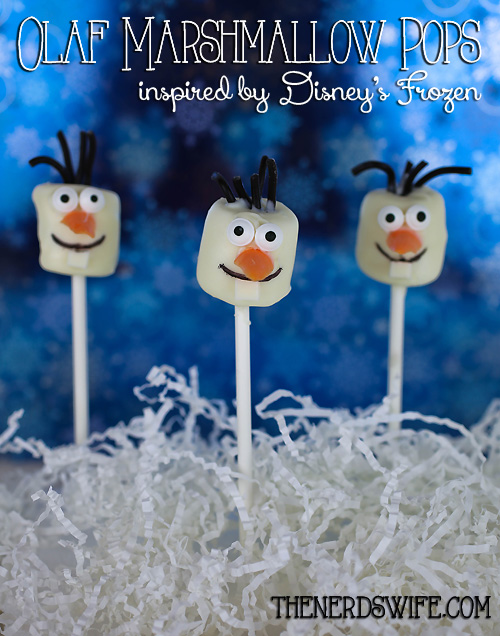 Looking for even more FROZEN treats? Check out these super-cute Olaf Marshmallow Pops!