The Nerd *loves* red velvet cake. So when I saw these Red Velvet Crinkle Cookies, I knew I had to make them. Cut them into heart shapes and you've got the perfect treat for Valentine's Day! They'd also make fun Christmas cookies!
The best thing about these cookies is that they use a cake mix — so they're *really* easy to make. You can even get your kids involved — Andrew loved helping me roll the balls of dough in powdered sugar before baking.
Red Velvet Crinkle Cookies
Source: Two Peas and Their Pod
Ingredients:
1 box red velvet cake mix
2 Tbsp all-purpose flour
2 large eggs
1/2 c canola oil
1 tsp vanilla extract
Powdered sugar
Directions:
Preheat oven to 350 degrees F. Add the cake mix and flour to the bowl of a stand mixer and whisk together until there are no lumps and they're combined well.
Add the eggs, canola oil and vanilla extract and mix together until a smooth dough is formed. The dough will be *very* sticky.
Lay out some wax paper and sprinkle with powdered sugar. Form 1-inch balls with the dough and roll in powdered sugar.
Place the balls on a baking sheet lined with parchment paper or a silpat. If you want a puffy cookie, leave them as balls. If you want a flatter cookie, press down on the balls to flatten them a bit before baking.
Bake for 10 minutes, until the edges of the cookies have set and cracks have started to form in the tops of the cookies.
Enjoy!
Check out these other yummy cookie recipes: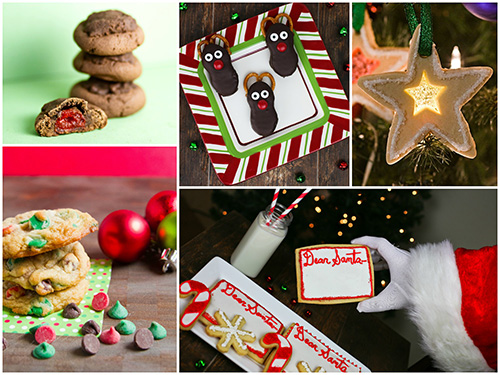 Chocolate Covered Cherry Cookies
Reindeer Nutter Butters | Stained-Glass Cookies
Holiday Chocolate Chip Cookies | Letter to Santa Cookies
Valentine Sandwich Cookies | Bubble Valentines | DIY Colored Mason Jars
Heart Crayon Valentines | Robot Heart Valentines | Play-Doh Valentines
Red Velvet Crinkle Cookies | GoGo squeeZ Valentines | Burlap Heart Garland