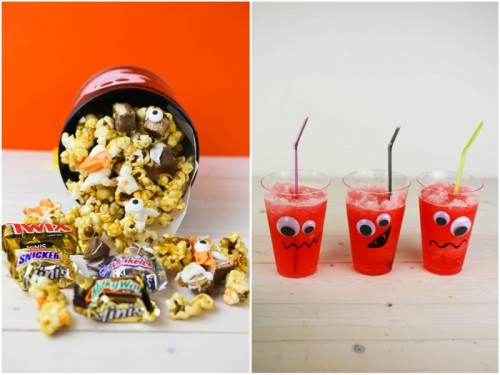 These recipes would be great for a Halloween Party, or even just a get-together with family or friends.
First, I made some Spooky Mars Candy Bar Caramel Corn. At first, I intimidated by the idea of making caramel corn. But you don't even need a candy thermometer for this recipe! It's so easy.
During my trip to Walmart to purchase supplies for these recipes, I picked up the 230-piece Mars Candy Mixed Miniatures. You won't use nearly that much for the caramel corn, but you can keep the leftover candy to give out to trick-or-treaters. Or, you can eat the whole bag yourself. No judgement here.
Spooky Mars Candy Bar Caramel Corn
Adapted From: Jamie Cooks It Up
Ingredients:
16 c cooked popcorn (1/2 c uncooked kernels)
1 c light brown sugar
1/4 c light corn syrup
1/2 c butter
1/2 tsp baking soda
1 tsp vanilla
Pinch of salt
25 miniature Mars Candy bars
1/2 c white candy melts
1/2 c orange candy melts
1 pkg candy eyes
Directions:
Pop the popcorn and pour it into a paper bag. In a large glass bowl, combine the brown sugar, corn syrup and butter. Cook for 1 minute in the microwave, then stir with a wooden spoon. Repeat four more times (cooking for a total of 5 minutes). The mixture will be very bubbly and hot.
Stir in the baking soda, vanilla and salt with a wooden spoon. Pour mixture over the popcorn in the paper bag. Stir well with a wooden spoon.
Heat paper bag in the microwave for 1 minute. Remove and shake well. Heat again for 30 seconds. Remove and shake again. Pour onto a baking sheet lined with parchment paper.
Chop up the candy bars and sprinkle on top of the popcorn. Melt the candy melts and drizzle over the top of the popcorn. Lastly, add the candy eyes to give it a spooky look.
Let harden and enjoy!
Next, you need some yummy drinks to wash down the caramel corn. So I made some Monster Mash Hawaiian Punch. My son *loved* this slushie drink because of the fun cups!
For this recipe, I purchased a 1-gallon jug of Hawaiian Punch Fruit Juicy Red and a 2 liter of 7UP from Walmart. Depending on how many people you're serving, you might need a bit more.
Monster Mash Hawaiian Punch
Ingredients:
Clear plastic cups
Glue dots
Googly eyes
Permanent Marker
Straws
1 c Hawaiian Punch Fruit Juicy Red
1/3 c 7UP, plus extra
4 c ice
Directions:
Stick the googly eyes onto the plastic cups using the glue dots. Then, draw a silly (or scary!) mouth with the permanent marker to create the monster cups.
In a blender, pulse together the Hawaiian Punch, 7UP and ice until it reaches the desired consistency. Spoon the slushie mixture into the plastic cups. I was able to partially fill three cups with this amount.
Pour a splash of 7UP into the top of the cups to add some bubbly sizzle to it.
Add a straw and serve immediately.
I also love these fun, creative Halloween Recipes.
Are you planning a Spooky Celebration for Halloween?
Check out these other fun Halloween ideas!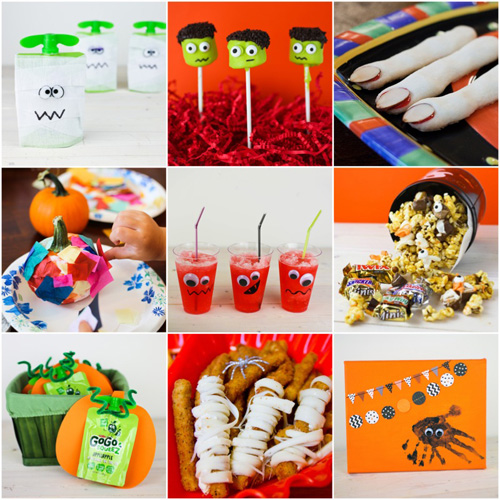 Mummy Applesauce Pouches | Frankenstein Marshmallow Pops | Dead Lady Fingers
Patchwork Pumpkins Craft | Monster Mash Punch | Spooky Candy Caramel Corn
Pumpkin Applesauce Pouches | Mummy Chicken Fingers | Spider Handprint Craft