Want to do something different with your kid's Easter Baskets this year? Whether you add something small or big here are 50+ ideas to help give your kids an Easter they'll never forget!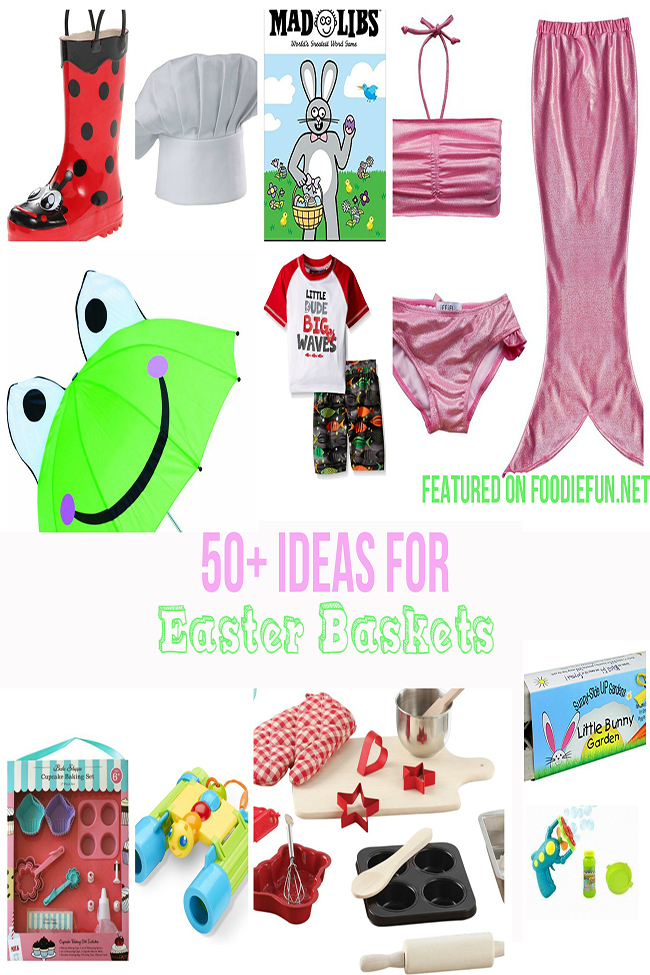 50+ Easter Basket Ideas for Kids
Get ready for April showers this year with some adorable rain gear!
Ladybug Umbrella with matching Boots & Jacket
Books are always a favorite in my house!
Easter Crack Ups – For your little jokster, funny and easy jokes to tell!
Easter Eggstravaganza Mad Libs – Practice their grammar while having a laugh!
Have a Silly Easter! (Mad Libs Junior) – For kids who couldn't care less about nouns and verbs!
Have a little cook in the kitchen? Try adding one of these to their Easter Basket!
12 Piece Set with Apron and Hat
Stars N' Planets (Mitt, Hat & Glove)
Anticipate Spring with these awesome gardening gizmos!
Sprout n Grow Strawberries – You don't need a big backyard to enjoy these fresh strawberries!
Glow & Grow Terrarium – So neat to watch!
Roots, Shoots, Buckets & Books: Gardening Together with Children
Garden Set with Tote – I love the tote keeps it all organized!
Get ready for all of the pools and splash pads by putting a new accessory in your kid's Easter Basket.
Puddlejumper– I could not live without this at the pool!
Shark Swim Cap – My son loves this!
Girl Mermaid Swimsuit Costume – Not very practical, but soo cute!
Promote your kids to go outdoors with one of these Easter gifts!
Binoculars  – Help your little one explore with these adorable binoculars!
Sand Toys – Don't have to use it just with sand!